Trees are a critical part of the environment. According to the Arbor Day Foundation, planting trees can help combat climate change. So, arborists want to do all they can to avoid cutting down trees because they are so beneficial to sustaining life on earth for people and animals. However, there comes a time when trees can become dangerous to have around, and it is a good idea to remove them. Unfortunately, there is not a one-size-fits-all price associated with tree removal when it comes to tree removal. The cost for tree removal in Taunton can vary dramatically depending on many cost factors. This guide allows you to get an idea of the various costs you may encounter with tree removal. Read on to learn more about the multiple types of costs associated with tree removal. 
Cost of Tree Removal
If you need to have tree removal in Taunton, expect to pay between $400 and $1,200. Residents of Taunton typically pay the average cost, which is about $750. The cost of tree removal in Taunton may go up drastically depending on how tall your tree is, the type of tree you have, and how accessible the tree is.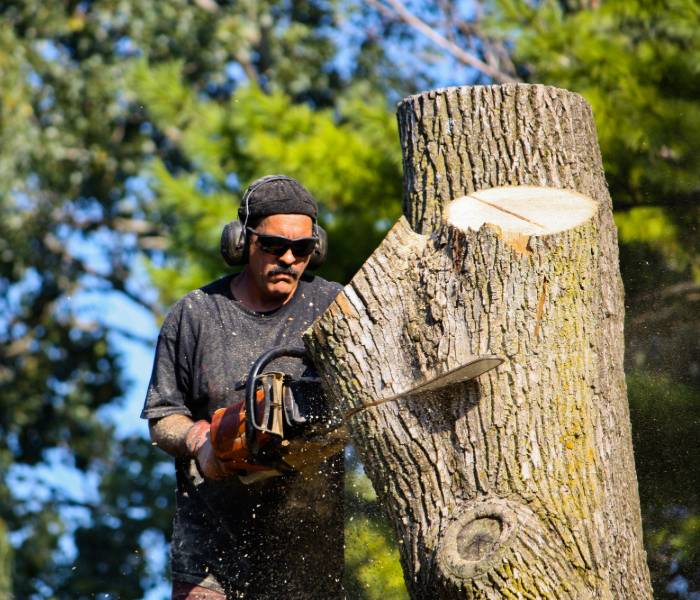 Cost of Fallen Trees
With fallen trees, you may have a little luck with costs as long as the tree hasn't caused damages to the property. The hardest part of tree removal is having arborists safely get in a tree and remove it without damaging themselves or your property. If the tree is already down, most of the work is done. A tree company will only have to remove the tree from the property, which could run you from $75 to $150. Other charges may include debris removal or haul away.  
Emergency Tree Removal
Another form of tree removal may be emergency tree removal. Unlike regular tree removal or fallen tree removal, emergency tree removal is removing a tree that has fallen on power lines or has fallen on your property. These types of emergencies create hazardous situations that need to be resolved as soon as possible so that you can get back to normal. For instance, trees on power lines could cause someone to get electrocuted. Therefore, it is critical to resolve the issue by removing the tree or the limbs as soon as possible. Likewise, when a tree falls on your home or car, an arborist must remove them so that you can get to work filing a claim to fix the problems.
Cost of Clearing Trees
Sometimes tree removal isn't about removing an individual tree. Occasionally, trees need removal to make progress. In these instances, arborists will have to clear large plots of land for a developer to build homes, golf courses, apartments, or multi-use developments. Arborists may also have to remove large plots of land for homeowners who want to make improvements on their land, such as landscaping changes, in-ground pools, or other recreational use of the land. A permit to remove trees in Taunton is necessary, however. 
Although land clearing is most commonly used for development purposes, there are times when arborists must clear land because it poses a threat to the local environment. For instance, some trees may have tree diseases that may spread. Also, some overgrowth of trees and shrubs in an area could be a fire hazard to local businesses or homes. Therefore, arborists should remove the trees to prevent potential loss from a fire that a lightning strike may cause. Still, another reason arborists may need to remove trees could be the need to build roads or parks in the local area. On the low end, the cost for land clearing could start at around $500 and go as high as $8,500 or more. Square footage, debris, and other factors could increase this average significantly. 
Should You Remove Diseased Trees?
If you have noticed that the tree near your home doesn't seem to be green as it should be or doesn't seem to grow back its leaves in the spring as it should, you may have to get this tree removed. However, before you assume that the tree is dead, it is a good idea to have an arborist check to see if it is simply diseased. In some cases, an arborist can treat a tree that has a type of fungus or pests, and you won't have to remove it. If an arborist can save your tree, it is a good idea to invest in reviving it.
Do you have questions about a tree on your property that you think needs removal? The tree experts at Taunton Tree Removal Services can help! One of our highly skilled arborists can come out and check your property and get down to the heart of the problem with the trees and shrubs on your property. If our arborists can revive them, we will suggest tree treatments that can help make your trees healthy again. Otherwise, we will provide you with a FREE estimate on the cost for tree removal in Taunton.